The DNS Health Check is a feature that performs various kinds of checks on a zone that can identify Account Security issues, as well as DNS misconfigurations. Any user that has the Read level permission for the Domains Permission type can view and generate the DNS Health Check Status/Report.
To run a Health Check Report for your Domain:
Navigate to a Domain you want to check the health status for.

Click the Health tab.

Click the Run Report button.

Once completed, a list of DNS Health Check results will be displayed, which include test results and validation results.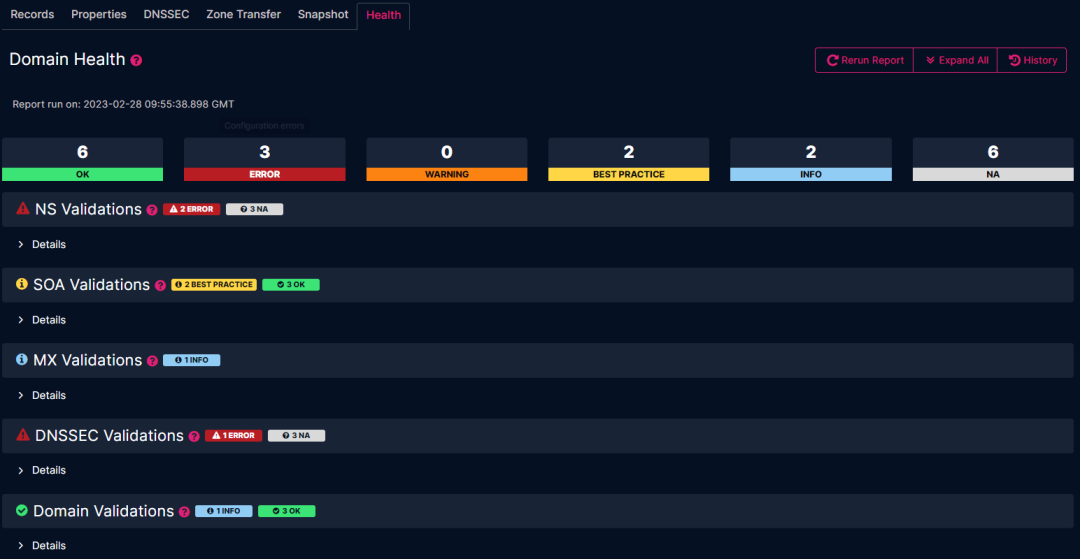 If you do not have the ability to View the DNS Health Check for the Domain, you will need to have your System Administrator (Account Owner) check your Permission settings.
Rerun Report
If a report has already been run for your domain, click the Rerun Report button to generate a new report. Once completed, the new results will appear on the screen.
Expand / Collapse All
Clicking the Expand All or Collapse All option will either display all of the DNS Health Check validations for (expand all) the domain, or, will minimize all of the validations and display the overview of the validation results.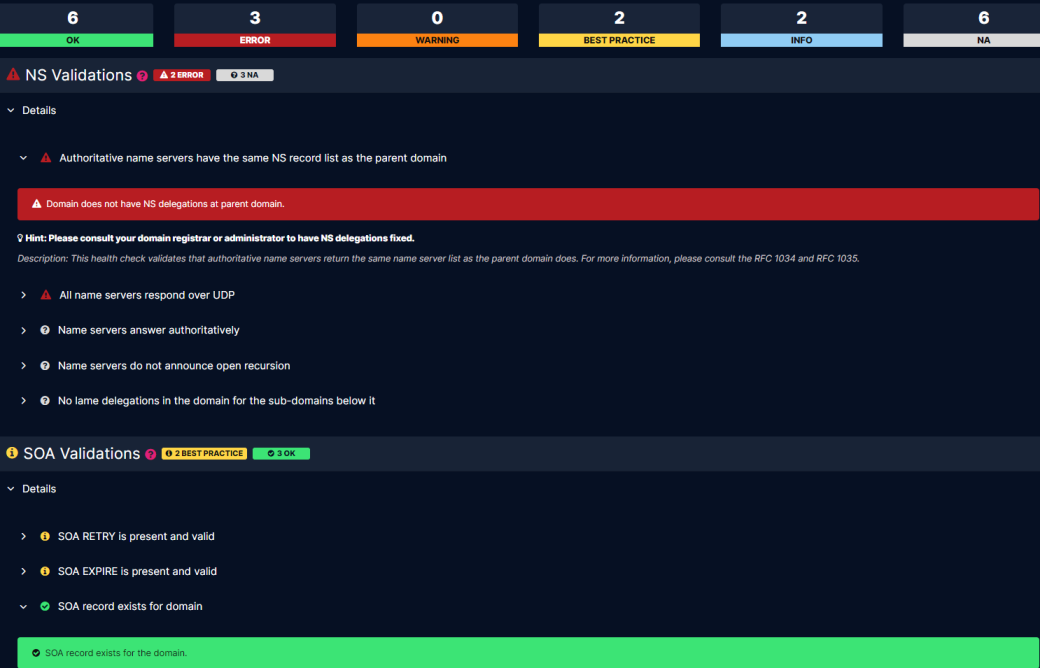 History
Selecting the History button will display two DNS Health Check report timestamps. Only two reports can be maintained for a DNS Health Check; the previously run report, and the currently (most recently run) displayed report. Selecting a report entry from the History section will reload the screen to display the report results that were returned on the day the report was run.
Health Check Validations
The tests or checks executed by the DNS Health Check system include following the categories of validations:
DNS Health Check Validations
| Name | Description |
| --- | --- |
| NS Validations | Validations related to NS records such as the NS records in a domain should match with the parent's NS record list, name servers must be responsive, etc. |
| SOA Validations | Validations related to SOA record like appropriate SOA attributes (refresh, retry, expire, etc.) |
| MX Validations | Validations related to MX records, such as mail server redundancy, existence, etc. |
| DNSSEC Validations | Validations related to DNSSEC, such as signature validations, chain of trust, DS record configurations, etc. |
| Domain Validations | Miscellaneous validations for a domain that can include dotted hosts existence and its conflict with NS records; ENT and Wildcard record existence, etc. |
The possible values of health check results displayed are as follows:
DNS Health Check Results
| Name | Description |
| --- | --- |
| OK | The possible values of health check results displayed are as follows: |
| ERROR | The test failed and the domain is likely not configured properly for that condition. |
| WARNING | The test generated a warning and this domain may be misconfigured for that condition; however, it still may function. |
| BEST PRACTICE | The test indicates this domain's configuration falls outside RFC guidelines or recommended best practices for that condition. However, this does not imply a misconfiguration. |
| INFO | The test yields information, and there is no PASS or FAIL results expected. |
| NA | The test cannot be run because another required test failed, or the test is not applicable to this domain's configuration. |