A Text (TXT) record lets an administrator insert any text they would like into the DNS record, and it is often used for denoting facts about the domain.
A TXT record consists of the following three fields:
Host - The hostname for the record, entered as either a simple, one-part name, or as a Fully Qualified Domain Name (FQDN) with or without a trailing dot. Examples:

hostname

hostname.example.biz

hostname.example.biz.

example.biz

example.biz.

Record Value - Provide comments as free text.

TTL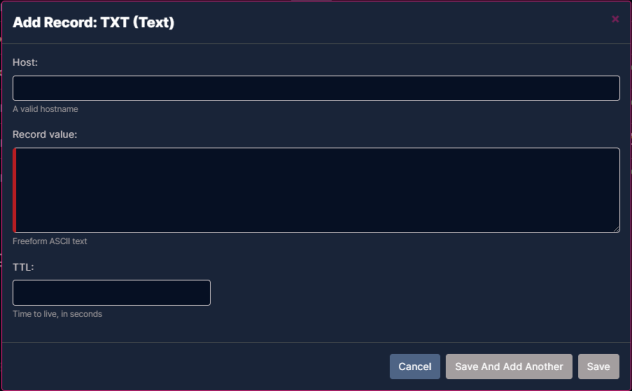 If a non-supported character is added to the Comments field (i.e. multi-line entry), a warning message will appear. This warning will not prevent the creation of the TXT record, but is instead intended to inform you that there may be issues with the results if you perform a DIG on the record.
If a TXT record is created with a duplicate hostname that already exists, either a Directional Pool can be created, or a stand-alone record can be created.
To create a pool, select an existing record from the available list and then select the pool type from the drop-down menu, and click Save.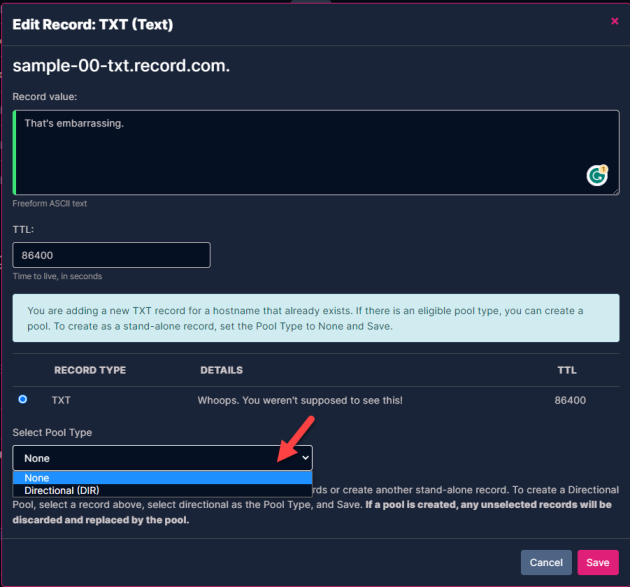 To create standalone record, set the Select Pool Type drop-down menu option to None, and click Save.